While I am known by many for my performance and presenting of jazz, my background in the performing arts includes quite a bit more. An actor, narrator and singer, I also played trumpet and trombone early on. Active in music and theater for most of my life, I was a music major and a speech/drama minor at Eastern Michigan University. A former longtime member of the AFM, and have also produced concert series, club dates, and festivals.
Musical theater, comedy, drama, choral and church soloist/section leader, opera, fronting big bands and small combos.  I've had the privilege to work with outstanding performers in many places, from intimate clubs to festival stages.  From arias and art songs to a cappella; from Big Band to guitar/vocal duo. An actor in comedy and drama, a narrator, and master of ceremonies.  

It runs in the family. My mother was performing with the Rackham Symphony Choir with Paul Paray and the Detroit Symphony for the opening of Ford Auditorium the night before my elder sister was born. Some interesting insights on the Beethoven 9th go along with the story of that night...
I briefly served as Executive Director of the Greater Uniontown Heritage Consortium, Inc., which owns and operates the State Theatre Center for the Arts in Uniontown, Pennsylvania. It is a 1922 entertainment palace, a gem in the heart of downtown Uniontown.
Still interested in interesting gigs today.. 
The list of interesting artists I've had the chance to book, produce or share the stage with is humbling.
Ahmad Jamal, Billy Taylor, Ramsey Lewis, David Sedaris, Susannah McCorkle, Count Basie, Stanley Turrentine, Vincent Persichetti, Diana Krall, Gene Bertoncini, Ira Glass, Freddie Hubbard, Billy Childs, Joanne Brackeen, Cecil McBee, George Benson, Oliver Jones, Don Thompson, Art Farmer, Eddie Russ, Buddy Rich, Woody Herman, Dave Frishberg, David Amram, David Rakoff, Clark Terry, Clare Fisher, Gary Foster, Maynard Klein, Sarah Vowell, the Manhattan Transfer, Dizzy Gillespie, Dave Brubeck, James Williams, Houston Person, Etta Jones, Hal Galper, Guido Basso, Joe Negri...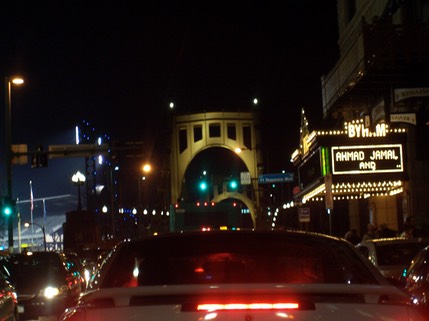 Pittsburgh, the night before the G-20 summit. © Scott Hanley 2009